"God is a spirit; and they who worship him must worship him in spirit and truth."
John 4:24
News - Baptism of Effie Kypriades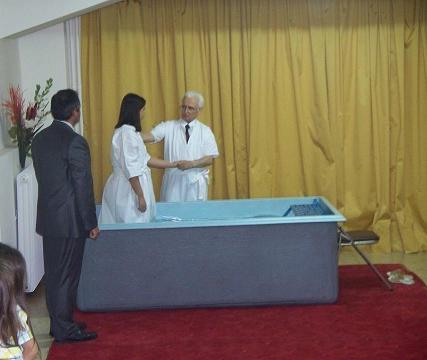 Sunday, May 23, 2010, after the evening service, we had the joy of baptizing Effie Kypriades. She's been brought up in the church and has just turned eighteen. She was a little girl when her father Panagiotis, a very dear Brother in Christ, was killed in an accident. Her widowed mother, our beloved Sister Demetra, deeply wounded by her husband's sudden death, not more than forty years old herself, turned to God for comfort and guidance, with all of us standing by her in prayer and in any other way possible, trying to soothe her pain, and God showed her clearly, that her sole duty from now on, should be to devoting her life to bringing up Effie "in the nurture and admonition of the Lord". The Lord did reward this her devotion and at Effie's baptism her joy was beyond description! Effie has a brother and a sister, Demetres and Dora, both older than she, who were present in the service and deeply touched hearing the word and watching the ordinance. It was a heavenly hour and we pray Effie will continue growing in the grace of God and being a strong witness for Jesus both in word and in deed.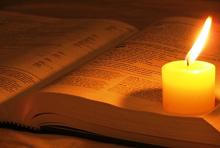 "Thy word is a lamp unto my feet, and a light unto my path."
Psalms 119:105