"God is a spirit; and they who worship him must worship him in spirit and truth."
John 4:24
A Message for today
Behold, now is the accepted time; behold, now is the day of salvation. 2 Corinthians 6:2.

A vicar who was a true believer and whose work was much blessed towards the end of the 19th century wrote some admonishing words that we should like to quote in part here. By the "foolish virgins" mentioned in the following passage the writer was referring to the parable of the ten virgins, which the Lord Jesus Christ once told His disciples (Matthew 25:1-13). Should any readers be unacquainted with the parable, we would advise them to read it without fail. Here, now, are the vicar's remarks:

"When the hammer of eternity rises for the last time to strike and sound the bell that turns today into yesterday, it is too late. Today might be another ten or twelve years for you or me; but it may be merely a few weeks. Today! Today! Time is short, and what is neglected one minute can never be redeemed in a thousand eternities. The foolish virgins may have arrived only five minutes too late, but it was too late for ever. They had been at the shop and had only taken a short detour, but when they got back, the door was shut. They knocked and pleaded and cried and shouted, but from behind the door came the words, "I know you not!" … When your today has trickled into the ocean of eternity like a drop of water reflecting the sun for a moment, … is it all over? No! But for you it is over! No one can be converted in eternity."

The period of our life is a space of time that God has made available for us to settle things with Him and turn to Him. That is conversion. Take advantage of that time! Come to Him today for your eternal blessing!


Statement of faith
The Evangelical Baptist Church accepts the Niceno-Constantinopolitan Creed, without the Filioque clause of the Western Church, as a concise, but complete, statement of the main tenets of Christianity, and as derived from the Holy Scriptures. Every other Statement of Faith and Practice is only a further development and interpretation of these tenets, or a reference to particular subjects, which could not be included in a Creed as synoptic as this.
What we believe :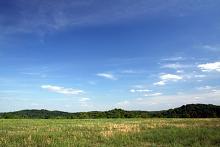 "The heavens declare the glory of God; and the firmament sheweth his handywork."
Psalms 19:1