"God is a spirit; and they who worship him must worship him in spirit and truth."
John 4:24
A Message for today
I rejoice at thy word, as one that findeth great spoil. Psalm 119:162.


An atheist once sent a young man from his circle of acquaintances a packet of printed matter. All had been selected to convince him that the Bible was outmoded and, in many of its statements, behind the times as far as present day knowledge is concerned.

The young man wrote back, "If you know of anything better than the sermon on the mount, anything more touching than the parable of the prodigal son, or any laws or regulations that surpass the standard of the ten commandments, if you can produce anything more comforting than the 23rd Psalm, or anything that reveals the love of God or clarifies my future better than the Bible, please send it to me by return of post."

Now it is true that such a testimony of a personal evaluation of the Bible will not satisfy many, because they believe it to result from a prejudice based on a lack of reality. Pointing out that thousands of other intelligent persons share the same joy over the Bible and are convinced that they have God's Word in their hands and that God speaks to them by this means is ineffective. Whoever does not believe this has soon done with the Bible.

The first step for getting to know the Bible is to experience its power. Read the 23rd Psalm at a time of distress and will get help. And whoever has ruined his life can appreciate the story of the prodigal. A troubled life has taught many a person to believe God and His Word.


Statement of faith
The Evangelical Baptist Church accepts the Niceno-Constantinopolitan Creed, without the Filioque clause of the Western Church, as a concise, but complete, statement of the main tenets of Christianity, and as derived from the Holy Scriptures. Every other Statement of Faith and Practice is only a further development and interpretation of these tenets, or a reference to particular subjects, which could not be included in a Creed as synoptic as this.
What we believe :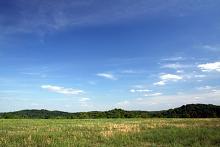 "The heavens declare the glory of God; and the firmament sheweth his handywork."
Psalms 19:1