"God is a spirit; and they who worship him must worship him in spirit and truth."
John 4:24
A Message for today
Let not your heart be troubled: ye believe in God, believe also in me. John 14:1.


A lot of our proverbs and sayings are based on experience gathered over many years. When we fear some uncertain event in the future, like a forthcoming serious operation, people often try to comfort us with, "It might not turn out as badly as you think." But these sayings, which we all so easily produce when we ourselves are not involved, in no way drive away the fear of the unknown.

Fears are only properly allayed when there is the guarantee that things will turn out well. So the concept of "hope" in our lives is normally connected with uncertainty. What has fate in store for me? And who could make a reliable forecast of what lies ahead of me?

Must hope always go hand in hand with uncertainty? Not if we have learned to rely on God. He has promised us a future in His Word without an atom of disappointment. When the Lord Jesus Christ was about to leave His disciples to return to His Father in heaven, they were afraid understandably. What would become of them when He would lo longer go before them, guiding them on their way? So He comforted them with this saying: "Ye believe in God; believe also in me." Their pathway would only be secure so long as they kept their faith in their Lord, who from then on would be invisible to them. It is no different today. Faith in our unseen God and His Son Jesus Christ, is the sole chance of a happy future for anyone seeking certainty and security.


Statement of faith
The Evangelical Baptist Church accepts the Niceno-Constantinopolitan Creed, without the Filioque clause of the Western Church, as a concise, but complete, statement of the main tenets of Christianity, and as derived from the Holy Scriptures. Every other Statement of Faith and Practice is only a further development and interpretation of these tenets, or a reference to particular subjects, which could not be included in a Creed as synoptic as this.
What we believe :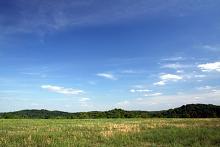 "The heavens declare the glory of God; and the firmament sheweth his handywork."
Psalms 19:1