"God is a spirit; and they who worship him must worship him in spirit and truth."
John 4:24
A Message for today
Wherefore do ye spend money for that which is not bread? And your labour for that which satisfieth not? Isaiah 55:2.

It frequently happens that unbelieving authors or even those who are hostile to God quote His Word, the Bible, for whatever motive. Some do so thoughtlessly, others to demonstrate their intelligence or knowledge of the Bible. Some simply wish to treat the Word of God contemptuously. The Bible is God's holy, inspired Word; it should not be quoted idly or frivolously.

Over the entrance to a cultural center stood the following verse from the Bible in letters visible and legible from a considerable distance: "Man shall not live by bread alone." In spite of the truth that this part of the verse expresses, it is regrettable that the words of the Lord Jesus in Matthew 4:4, itself a quotation from Deuteronomy 8:3, were not reproduced in full: "Man shall not live by bread alone, but by every word that proceedeth out of the mouth of God."

Bread is necessary for the nourishment of the body, but like culture, science, philosophy or the fine arts it does not feed the soul. These different fields tend rather to wither the soul and may even cause distaste. We need the Word of God, the expression of His own thoughts, for it is the word of life and salvation. The prophet Jeremiah said, "Thy words were found, and I did eat them: and thy word was unto me the joy and rejoicing of my heart" (ch. 15, v.16). In the light of the Word of God we recognize that we are sinners, but we also see that God has given us a Savior: the Lord Jesus Christ.


Statement of faith
The Evangelical Baptist Church accepts the Niceno-Constantinopolitan Creed, without the Filioque clause of the Western Church, as a concise, but complete, statement of the main tenets of Christianity, and as derived from the Holy Scriptures. Every other Statement of Faith and Practice is only a further development and interpretation of these tenets, or a reference to particular subjects, which could not be included in a Creed as synoptic as this.
What we believe :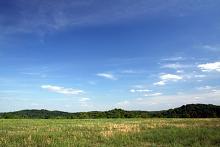 "The heavens declare the glory of God; and the firmament sheweth his handywork."
Psalms 19:1