"God is a spirit; and they who worship him must worship him in spirit and truth."
John 4:24
A Message for today
Your iniquities have separated between you and your God, and your sins have hid his face from you.

Cry unto her, ... that her iniquity is pardoned.
Isaiah 59:2;40:2


That there are distinctions in the gravity of forms of evil cannot be denied. Our experience confirms this. But every form of sin has its root in the inner condition of each one of us. Jesus said, "Out of the heart proceed evel thoughts, murders, adulteries, fornications, thefts, false witness, blesphemies: these are the things which defile a man" (Matthew 15:19,20). How many wicked thoughts, sinful intentions or lusts are slumbering in the depths of human nature! How fortunate it is that they do not all turn into deeds! Can you imagine our feelings if a kind of super X-ray machine were invented one day to reveal all our thoughts to the public?
Now God has a thorough knowledge of us: He sees just what we are really like, not what we pretend to be. He designates us as sinners and pronounces us guilty, for every sin is an act of disobedience towards His will. With that in view, we can understand why we must remain separate from Him for ever in that state. Nothing can enter heaven that is not consistent with God's holiness.
Now if this worries you, we have a wonderful message for you. Even if God must judge sin, He still wishes to save the sinner. Salvation could only come from His side. We have a Savior, Jesus Christ, who gave Himself as a sacrifice to atone for the sins of all who entrust themselves to Him and can now say, "The Son of God, who loved me, and gave himself for me" (Galatians 2:20).


Statement of faith
The Evangelical Baptist Church accepts the Niceno-Constantinopolitan Creed, without the Filioque clause of the Western Church, as a concise, but complete, statement of the main tenets of Christianity, and as derived from the Holy Scriptures. Every other Statement of Faith and Practice is only a further development and interpretation of these tenets, or a reference to particular subjects, which could not be included in a Creed as synoptic as this.
What we believe :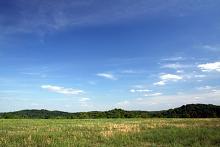 "The heavens declare the glory of God; and the firmament sheweth his handywork."
Psalms 19:1