"God is a spirit; and they who worship him must worship him in spirit and truth."
John 4:24
A Message for today
Ahab said unto Obadiah, Go into the land, unto all fountains of water, and unto all brooks: peradventure we may find grass to save the horses and mules alive, that we lose not all the beasts. 1 Kings 18:5.


It had not rained in Israel for three years; nor had there been any dew. God's hand lay heavy in judgment on the people of Israel. But this time of trial had not affected king Ahab: there was no sign of his turning to God, nor of his examining his own heart. The thought did not strike him that the drought might be connected with the idolatry in which he had ensnared Israel.

Now he started to look for grass with Obadiah, one of his servants. That was understandable, but he should not have stopped simply at the consequences of the catastrophe: he should have sought the cause. Then it would soon have become clear that God, on whom he had turned his back, had shut up the heavens and withheld the rain to speak to his conscience.

Doesn't Ahab's behavior remind us of our own times? There is no lack of trouble: crises abound. But who bothers to consider where the troubles come from? And if the causes are sought, who admits that God is active behind the scenes, trying to make man put his disturbed relationship with God in order? How easily we blame our neighbors, our boss, the government or even God Himself for the tragedies! When God sends a misfortune our way, it is to call individuals' attention to the fact that they have forgotten or neglected His Word. When this omission is rectified, there is blessing for whoever calls upon Him.


Statement of faith
The Evangelical Baptist Church accepts the Niceno-Constantinopolitan Creed, without the Filioque clause of the Western Church, as a concise, but complete, statement of the main tenets of Christianity, and as derived from the Holy Scriptures. Every other Statement of Faith and Practice is only a further development and interpretation of these tenets, or a reference to particular subjects, which could not be included in a Creed as synoptic as this.
What we believe :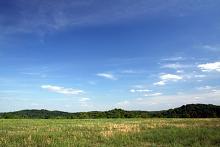 "The heavens declare the glory of God; and the firmament sheweth his handywork."
Psalms 19:1