"God is a spirit; and they who worship him must worship him in spirit and truth."
John 4:24
A Message for today
God is not the God of the dead, but of the living. Matthew 22: 32.


The thought of death causes a very uncomfortable feeling with most people. Death is inevitable. Everyone knows that one day he must die, but no one knows just when or how. A Russian proverb states: "Death is a giant before whom even the Tsar must bow." Young people especially like to put the thought of death out of their minds. A poet once said: "The elderly have death before their eyes, but he has settled on the back of young people's necks."

Not very long ago I was standing at the graveside of a young man. He was only 21 years old when he died and had been married for only a few months. His wife could hardly grasp what had happened. A malicious disease had brought his life to a sudden and unexpected end.

Death is like the air surrounding us. It causes an oppressive feeling. Yet there is a glorious message even in view of death. The Bible does not speak of death simply as the end of all our enjoyment and hopes on earth. It also shows that there are people who die in order to live; for them eternal life with its assurance of glory is far superior to earthly life. For them death has lost its sinister implications. How many Christian martyrs gave convincing proof of that! They neither despaired nor revolted. They were comforted and faced their end with serene peace.

That is true Christian hope. All who have been born again know that eternal life is not taken from them through physical death. This knowledge is not a pious hope, nor a sign of anxiety expressing itself in hope: it is assurance – its reliability is founded on the fact that God has said it.


Statement of faith
The Evangelical Baptist Church accepts the Niceno-Constantinopolitan Creed, without the Filioque clause of the Western Church, as a concise, but complete, statement of the main tenets of Christianity, and as derived from the Holy Scriptures. Every other Statement of Faith and Practice is only a further development and interpretation of these tenets, or a reference to particular subjects, which could not be included in a Creed as synoptic as this.
What we believe :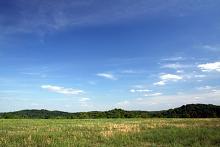 "The heavens declare the glory of God; and the firmament sheweth his handywork."
Psalms 19:1