"God is a spirit; and they who worship him must worship him in spirit and truth."
John 4:24
A Message for today
"...shall the dust return to the earth as it was: and the spirit shall return unto God who gave it." Eccles.

GOETHE' S TEARS

Goethe, one of the greatest poets of Germany and of the world, when young, found himself on a lofty place, having before him a beautiful panoramic view of a forest that looked like sea. Fascinated by the sight and conquered by its magnificence, wrote on the wall of an old shack that happened to be there: "Wait a little, rest is coming for you, too" He was quite old when he returned to the same place. And as he read the line he had written he burst into tears seeing before him the hour that the same would be said for him too. Did he believe in God? Had he any hope in his heart? He looked back through the more than eighty years he had lived. He had already made the statement that the days he was really happy were few, very few! Something for everybody to stop and think over! You reader, have you ever stopped to think where your spirit (soul) will go when your body (dust) returns to the earth? The way to salvation and eternal life is by faith accepting Jesus Christ as your personal Savior. He shed His blood for you.Trust Him and you shall be saved.


Statement of faith
The Evangelical Baptist Church accepts the Niceno-Constantinopolitan Creed, without the Filioque clause of the Western Church, as a concise, but complete, statement of the main tenets of Christianity, and as derived from the Holy Scriptures. Every other Statement of Faith and Practice is only a further development and interpretation of these tenets, or a reference to particular subjects, which could not be included in a Creed as synoptic as this.
What we believe :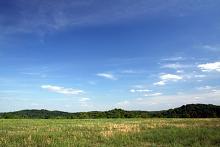 "The heavens declare the glory of God; and the firmament sheweth his handywork."
Psalms 19:1