"God is a spirit; and they who worship him must worship him in spirit and truth."
John 4:24
A Message for today
Ηis sons Isaac and Ishmael buried him in the cave of Machpelah. Genesis 25:9.

Abraham, that great man of God, had died and the time had come to bury him. The funeral was a very quiet affair. Only two of his sons bore him to the grave. For the eye of man the event was inconspicuous, but through the two sons God speaks clearly and impressively to our hearts. How different the two sons were! Their origins point to definite episodes in Abraham's life.

Ishmael is obviously the fruit of Abraham's self-willed action. Because of a famine he had left his own land for Egypt. On his return he brought back a maid with him. His association with her produced Ishmael. So in that son we can see an illustration of human activity done in self-will, or, as the Scripture says, "according to the flesh" (cf. Galatians 4:23).

Isaac, on the other hand, is the fruit of God's wonderful intervention. God had promised Abraham a son by his wife Sarah. In spite of Abraham's over-hasty failure God did not go back on His promise. At the appointed time Isaac, the son of promise, was born.

Seeing these two sons, who apart from having the same father hardly had anything in common, together at their father's grave must speak to our hearts. There are moments in our lives when our relationships come to light. The most important relationship is: how do we stand towards God? And how have we lived our lives before Him? Do we live with God, like Isaac, or apart from Him, like Ishmael? Does our life overflow with our own activity, or has God been able to undertake a work of grace in our hearts, because we have accepted His "gift of grace" (Romans 5:15)? He sacrificed His own Son so as to save us and bring us into an eternal relationship with Himself.


Statement of faith
The Evangelical Baptist Church accepts the Niceno-Constantinopolitan Creed, without the Filioque clause of the Western Church, as a concise, but complete, statement of the main tenets of Christianity, and as derived from the Holy Scriptures. Every other Statement of Faith and Practice is only a further development and interpretation of these tenets, or a reference to particular subjects, which could not be included in a Creed as synoptic as this.
What we believe :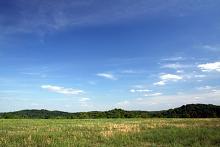 "The heavens declare the glory of God; and the firmament sheweth his handywork."
Psalms 19:1