"God is a spirit; and they who worship him must worship him in spirit and truth."
John 4:24
A Message for today
God commendeth his love toward us, in that, while we were yet sinners, Christ died for us. Romans 5:8.

The apostle Paul is here speaking of the measure of the love of God. The only persons able to appreciate such love are those who have experienced it for themselves. If anyone ever knew the depth of God's love, it was the apostle Paul himself. One of his letters tells us that he was a "blasphemer and a persecutor, and injurious" (1 Timothy 1:13). The book of Acts confirms this. He was brutal in his persecution of the early Christians. In his desire to exterminate them he entered their houses and took them captive (cf. Acts 8:3). He was their outspoken enemy.
One day, when he was on his way to Damascus with authority to cause havoc among the Christians there, he was suddenly stopped in his tracks. A brilliant light from heaven shone down on him, casting him to the ground. He heard a voice calling: "Saul, Saul, why persecutest thou me?" When he inquired after the speaker, he received the memorable answer: "I am Jesus whom thou persecutest" (Acts 9:3-5).
We can well imagine that this caused Paul's world to fall to pieces. But why didn't Christ, whose glory had just overpowered him, condemn him on the spot? Paul soon learned that he had come into contact with the love of God. Christ had died for him and his sins even before he had begun his hostilities. So he could write, probably not without emotion, "But I obtained mercy" (1 Timothy 1: 16).
Dear reader, do you still reject Christ? You, too, could experience a moment like that at Damascus, an encounter with the Savior, Jesus Christ, for God is still gracious.


Statement of faith
The Evangelical Baptist Church accepts the Niceno-Constantinopolitan Creed, without the Filioque clause of the Western Church, as a concise, but complete, statement of the main tenets of Christianity, and as derived from the Holy Scriptures. Every other Statement of Faith and Practice is only a further development and interpretation of these tenets, or a reference to particular subjects, which could not be included in a Creed as synoptic as this.
What we believe :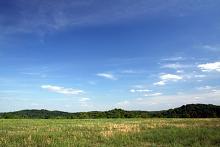 "The heavens declare the glory of God; and the firmament sheweth his handywork."
Psalms 19:1