"God is a spirit; and they who worship him must worship him in spirit and truth."
John 4:24
A Message for today
The LORD giveth wisdom: out of his mouth cometh knowledge and understanding.

The knowledge of the holy is understanding.

The man that wandereth out of the way of understanding shall remain in the congregation of the dead. Proverbs 2:6; 9:10; 21:16.


Understanding



What a benefit the provision of education is to mankind! Where should we be in the present circumstances of life, if we had no opportunity to attend school? In various fields of learning teachers set out basic principles that we need to grasp in order to cope with different branches of human activity. Did we really understand all that we were taught? If we now regret not paying attention to the subject matter dealt with, how much more serious it is when we consider how this affects the things of God!

The wisdom that God gives enables us to see and judge all things in His light. We learn to be honest regarding ourselves and acknowledge that before God we are sinners. We understand the concern that God has for His creature man, namely that "the wages of sin is death" (Romans 6:23), and why He gave His only Son to die for us, so that we might receive eternal life. And we develop more and more respect for God's holiness and seek to live to please Him. But what if, like pupils who show no interest in their lessons, we ignore what God wishes to teach us? However intelligent we may be, we cannot expect His approval: no place in His eternal home will await us. We shall have left the way of understanding. The company of the condemned will be our lot.

"Therefore get wisdom, and with all thy getting get understanding" (Proverbs 4:7). (The Good Seed Calendar 2005).


Statement of faith
The Evangelical Baptist Church accepts the Niceno-Constantinopolitan Creed, without the Filioque clause of the Western Church, as a concise, but complete, statement of the main tenets of Christianity, and as derived from the Holy Scriptures. Every other Statement of Faith and Practice is only a further development and interpretation of these tenets, or a reference to particular subjects, which could not be included in a Creed as synoptic as this.
What we believe :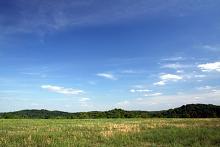 "The heavens declare the glory of God; and the firmament sheweth his handywork."
Psalms 19:1