"God is a spirit; and they who worship him must worship him in spirit and truth."
John 4:24
A Message for today
Hast thou eaten of the tree? … And the man said, The woman thou gavest to be with me, she gave me of the tree, and I did eat. Genesis 3: 11,12.

Adam's reply to God's question shows that sin makes people cowardly. He could have answered, "I have disobeyed your command and eaten of the forbidden tree. How can things be put right?" Instead Adam said something quite different. His answer reveals one of the meanest characteristics of sin, one that we meet time and time again: blaming others when the real guilt lies with ourselves. Indirectly Adam accused God for being at fault, since He had given him his wife. At the time Adam had been extremely happy and grateful. So how could he now say, "The woman whom thou gavest me"? That was the height of impertinence. Eve was blamed for his own disobedience. With one short sentence Adam unjustly reproached two persons.

How often we have been guilty of the same sin: placing the blame on someone else's shoulders. In this respect the human heart can be quite inventive. God is accused of many of the misfortunes that occur. It is always the other partner who is to blame for the break-up of a marriage. Another colleague was responsible for the faults in manufactured goods etc. When will we be prepared to accept our share of the blame?

What a serious matter it is to accuse God of causing our troubles! We can only rid ourselves of the guilt that we bear by confessing it to God. And the wonderful thing is that He is ready and willing to forgive all who come to Him and own their faults. He laid the foundation for such goodness and grace when he gave His own Son to die on the cross.


Statement of faith
The Evangelical Baptist Church accepts the Niceno-Constantinopolitan Creed, without the Filioque clause of the Western Church, as a concise, but complete, statement of the main tenets of Christianity, and as derived from the Holy Scriptures. Every other Statement of Faith and Practice is only a further development and interpretation of these tenets, or a reference to particular subjects, which could not be included in a Creed as synoptic as this.
What we believe :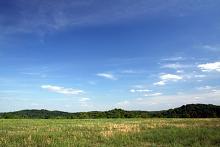 "The heavens declare the glory of God; and the firmament sheweth his handywork."
Psalms 19:1