"God is a spirit; and they who worship him must worship him in spirit and truth."
John 4:24
A Message for today
The rich man also died, and was buried; … and he cried, and said, … I am tormented in this flame. Luke 16: 22,24.

The scrap dealer arrived with his lorry and negotiated with my grandfather over the price of the metal pieces he was to take away. When they were agreed and the scrap had been loaded on the lorry, my grandfather asked him, "Have you the forgiveness of your sins?" The merchant only laughed. So my grandfather continued, "If you do not know the Son of God, you are lost for eternity." The dealer then made a contemptuous reply: "Then I'll deliver coal for the devil in hell with my lorry." I was appalled at the course the conversation had taken. Did that man really think that hell was a place where the devil held sway and that he himself could continue a life undisturbed by God or any preachers of the gospel?

The devil is not in hell as yet, nor is the rich man, about whom the Lord Jesus spoke in our text. The final judgment has still to take place. But in the intermediary stage of the realm of the dead the rich man suffered torment in the flames. During his life he had refused to believe that God is holy and just and that He would judge him for his sins. Now he knew it to be true, and his soul was suffering as a result.

With the words "everlasting punishment" (Matthew 25: 46) and "the wrath of God abideth on him (John 3: 36)" the Lord Jesus described hell. That is a dreadful prospect for all who will not believe in the Lord Jesus. But all who put their faith in Him and accept Him as their Savior and Lord have the assurance that the Lord Jesus suffered God's wrath and punishment on the cross of Calvary on their behalf.


Statement of faith
The Evangelical Baptist Church accepts the Niceno-Constantinopolitan Creed, without the Filioque clause of the Western Church, as a concise, but complete, statement of the main tenets of Christianity, and as derived from the Holy Scriptures. Every other Statement of Faith and Practice is only a further development and interpretation of these tenets, or a reference to particular subjects, which could not be included in a Creed as synoptic as this.
What we believe :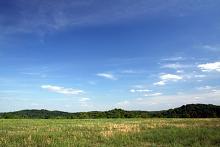 "The heavens declare the glory of God; and the firmament sheweth his handywork."
Psalms 19:1