"God is a spirit; and they who worship him must worship him in spirit and truth."
John 4:24
A Message for today
God sent not his Son into the world to condemn the world; but that the world through him might be saved. John 3:17.


Since there are numerous religions in the world, it is understandable that people ask which is the right one. Even sincere questioners, who do not make this difficulty an excuse for not believing, are at a loss in all this confusion. Can anyone wonder that they eventually say in frustration, "I cannot believe anything"?

Now don't be surprised if we tell you that no religion is the right one. None at all! In all the various religions people search for God. But He cannot be found. He is a God" "dwelling in the light which no man can approach unto, whom no man hath seen, nor can see" (1 Timothy 6:16). So any attempt by mankind to find God must fail.

But this is where the message of the gospel of Jesus Christ comes in. It declares that we do not have to seek God, but that He seeks us through the Lord Jesus Christ. The key verse of the gospel of Luke states: "The Son of man is come to seek and to save that which was lost" (ch. I9, v.10). This message from the Bible, which is so much ignored or completely unknown, puts an end to all man's religious efforts, for God is calling for you who are lost.

The Son of God came from the glory of heaven and became true Man, living in this world full of selfishness, hatred and trouble. Everywhere He found God's adversary, the prince and god of this world, i.e. Satan, at work. Then He sacrificed His life on the cross to save the lost. That is not religion: it is the glorious message of a Savior-God who seeks mankind in order to save those who are prepared to put their trust in Him.


Statement of faith
The Evangelical Baptist Church accepts the Niceno-Constantinopolitan Creed, without the Filioque clause of the Western Church, as a concise, but complete, statement of the main tenets of Christianity, and as derived from the Holy Scriptures. Every other Statement of Faith and Practice is only a further development and interpretation of these tenets, or a reference to particular subjects, which could not be included in a Creed as synoptic as this.
What we believe :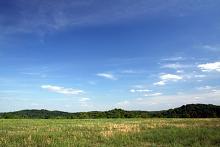 "The heavens declare the glory of God; and the firmament sheweth his handywork."
Psalms 19:1