"God is a spirit; and they who worship him must worship him in spirit and truth."
John 4:24
A Message for today
Ye turned to God from idols to serve the living and true God; and to wait for his Son from heaven, whom he raised from the dead, even Jesus, which delivered us from the wrath to come. 1 Thessalonians 1:9,10.

Waiting

A gravestone in a small cemetery in London has, apart from the name of the deceased, a single word engraved upon it: "Waiting". On another stands the verse: "Precious in the sight of the LORD is the death of his saints" (Psalm 116:15) followed by the names of a married couple and the inscription: "Awaiting the resurrection of life". Here are buried true Christians, who by faith experienced what is described in the verse at the head of today's message.

The Thessalonians were characterized by three things: 1) They had been converted to God from idolatry. 2) They served the living and true God. 3) They expected the second coming of His Son, Jesus Christ, from heaven.

Many centuries have passed since the apostle Paul wrote that epistle. Nothing but dust can remain of the mortal bodies of those believers; yet in paradise, like so many before and after them, they are consciously waiting for the glorious moment when the Lord will come to take both those who are "asleep in Jesus" and believers who are alive on earth to haven in their resurrection body, a body of glory (cf. 1 Thessalonians 4:16 – 18 & Philippians 3: 20,21).

These people are happy and blessed indeed! They know the Lord Jesus Christ as their Lord and Redeemer. They can apply these words of the apostle Paul to themselves: "Whether we live, we live unto the Lord; and whether we die, we die unto the Lord; whether we live therefore, or die, we are the Lord's" (Romans 14: 8).


Statement of faith
The Evangelical Baptist Church accepts the Niceno-Constantinopolitan Creed, without the Filioque clause of the Western Church, as a concise, but complete, statement of the main tenets of Christianity, and as derived from the Holy Scriptures. Every other Statement of Faith and Practice is only a further development and interpretation of these tenets, or a reference to particular subjects, which could not be included in a Creed as synoptic as this.
What we believe :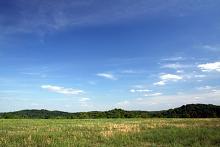 "The heavens declare the glory of God; and the firmament sheweth his handywork."
Psalms 19:1