"God is a spirit; and they who worship him must worship him in spirit and truth."
John 4:24
A Message for today
Dost not thou fear God, seeing thou art in the same condemnation? And we indeed justly; for we receive the due reward of our deeds: but this man hath done nothing amiss. Luke 23:40,41.

These were the words of one of the two criminals who were crucified alongside the Lord Jesus. He criticized his fellow sufferer, but then made a confession. In the final minutes of his life he changed his attitude completely, acknowledging his guilt before God. The Lord Jesus forgave him and he was able to die with the assurance of salvation. The other criminal remained a lost sinner. He could not, nor would admit his debt of guilt.

History records that the German emperor, Frederick the Great (1712-1786), once visited a prison. He went into the cells and asked the inmates why they were there. One after another they claimed to be innocent and blamed a miscarriage of justice for their predicament. In one cell, however, a young man admitted what a wretch he was. He deserved his punishment, he said, and had brought nothing but dishonor on himself and his family. The emperor went to the door, opened it, then turned back to the prisoner and said sternly, "What are you doing here among all these upright men? Get out!" The young man's confession impressed him, while the self-righteousness of the others left him cold.

The Lord Jesus Christ once said, "They that are whole need not a physician; but they that are sick. I came not to call the righteous, but sinners to repentance" (Luke 5: 31,32). Those are the words of the righteous One who died on the cross for the unrighteous. What a warning they are for the self-righteous! Remember: it is not our assessment of ourselves that counts, but God's verdict on us.


Statement of faith
The Evangelical Baptist Church accepts the Niceno-Constantinopolitan Creed, without the Filioque clause of the Western Church, as a concise, but complete, statement of the main tenets of Christianity, and as derived from the Holy Scriptures. Every other Statement of Faith and Practice is only a further development and interpretation of these tenets, or a reference to particular subjects, which could not be included in a Creed as synoptic as this.
What we believe :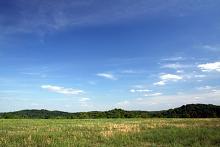 "The heavens declare the glory of God; and the firmament sheweth his handywork."
Psalms 19:1