"God is a spirit; and they who worship him must worship him in spirit and truth."
John 4:24
A Message for today
Behold, now is the accepted time; behold, now is the day of salvation. 2 Corinthians 6:2.

What is actually meant by this "day of salvation", and this "accepted time"? In this second epistle to the Corinthians the apostle Paul, that great servant of Jesus Christ, refers to a quotation from the prophet Isaiah, who coined these phrases. He wants to remind born again Christians, who have received the grace of God, that they now have a service for their life, the propagation of the "word of reconciliation" among those who have not yet heard it (cf. 2 Corinthians 5: 19).

He tells them, and us, too, that the grace of God will not always be available to mankind. So they should make good use of the present time to spread the good news. Although God is merciful towards all who seek His grace, it will not always remain so. For each individual the opportunity of obtaining grace from God is even more limited. It does not go beyond his relatively short lifetime. So the matter is urgent. Christians have a realistic conception of God's grace because they themselves have experienced it. What is more, they wonder at the great work accomplished to that end. God's only begotten Son became Man and was punished vicariously for their sins, the Just for the unjust. The way in which God dealt with His Son in not sparing Him shows just how seriously He takes the question of sin. So should not we Christians show concern for the people who die without the forgiveness of sins and then have to appear before God? That is the reason for the urgency of the request to all who are still far from God: "Be ye reconciled to God" (2 Corinthians 5:20).


Statement of faith
The Evangelical Baptist Church accepts the Niceno-Constantinopolitan Creed, without the Filioque clause of the Western Church, as a concise, but complete, statement of the main tenets of Christianity, and as derived from the Holy Scriptures. Every other Statement of Faith and Practice is only a further development and interpretation of these tenets, or a reference to particular subjects, which could not be included in a Creed as synoptic as this.
What we believe :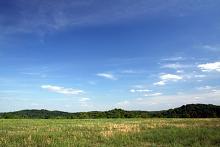 "The heavens declare the glory of God; and the firmament sheweth his handywork."
Psalms 19:1