"God is a spirit; and they who worship him must worship him in spirit and truth."
John 4:24
A Message for today
INTERPRETATIONS OF LOVE

Patience is love on the anvil, bearing blow after blow of suffering. Zeal is love in the harvest field, never tiring of toil. Meekness is love in company, when it vaunteth not itself. Perseverance is love on the journey, pressing on with unflagging step toward the end. Joy is love making its own sunshine, where others see nothing but gloom. Power is love driving the soul's chariot wheels over all opposition. Gentleness is nothing but love in her own sweet voice and charming manner. --Selected


Statement of faith
The Evangelical Baptist Church accepts the Niceno-Constantinopolitan Creed, without the Filioque clause of the Western Church, as a concise, but complete, statement of the main tenets of Christianity, and as derived from the Holy Scriptures. Every other Statement of Faith and Practice is only a further development and interpretation of these tenets, or a reference to particular subjects, which could not be included in a Creed as synoptic as this.
What we believe :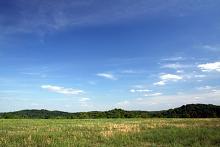 "The heavens declare the glory of God; and the firmament sheweth his handywork."
Psalms 19:1