"God is a spirit; and they who worship him must worship him in spirit and truth."
John 4:24
A Message for today
There is no God else beside me; a just God and a Saviour; there is none beside me. Isaiah 4:21.


Instead of delivering one of the last mathematics lectures to his students before the completion of their course, the lecturer allowed them to ask him general questions about life. He was asked, "When is life worth living? After all, you have been successful in your career." The lecturer smiled at first, then replied, "Ladies and gentlemen, if your calculations concerning the living God are wrong, then your life is worth nothing."

One must fear that many people have made this very mistake. At the end of their lives they stand before the living God empty-handed. Some of them have taken refuge in evolutionary theories to explain the origin of the universe and believe that man is the result of a development that has run its own course. For this no God was necessary; so they flatly deny Him. Many religious persons on the other hand speak of a "God of love", by which they imagine a benevolent Father of mankind who is not too strict and therefore prepared to overlook our failings. Both these groups of people are on the wrong track.

Whoever wants to be right concerning God must listen to what the Bible, the Word of truth, says. It tells us all that we need to know about God and man. There we learn that God is Lord over all creation, the Almighty and also the Saviour. On account of His holiness and righteousness He must condemn the sinner, but He also shows how the sinful can enjoy a relationship with Him. Jesus Christ, the Son of God, suffered death for sinners on the cross of Calvary. Whoever accepts this in true faith obtains salvation.


Statement of faith
The Evangelical Baptist Church accepts the Niceno-Constantinopolitan Creed, without the Filioque clause of the Western Church, as a concise, but complete, statement of the main tenets of Christianity, and as derived from the Holy Scriptures. Every other Statement of Faith and Practice is only a further development and interpretation of these tenets, or a reference to particular subjects, which could not be included in a Creed as synoptic as this.
What we believe :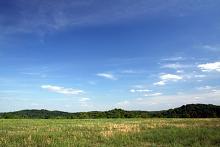 "The heavens declare the glory of God; and the firmament sheweth his handywork."
Psalms 19:1