"God is a spirit; and they who worship him must worship him in spirit and truth."
John 4:24
A Message for today
Escape for thy life; look not behind thee, neither stay thou in all the plain...But his wife looked back from behind him, and she became a pillar of salt. Genesis 19:17.26.

The story of Lot's wife can be told in a few words. As an inhabitant of Sodom she became acquainted with the immoral life in that city. But because God wanted to show her mercy, she was spared from the judgment that destroyed Sodom, together with her husband and her two unmarried daughters. However, the angel had to urge them to hurry as they left the city.
God exhorts and urges everyone. Not wishing the sinner to die, but to "turn from his way and live" (Ezekiel 33:11), God takes him, so to speak, by the hand. How can anyone refuse to go with Him?
Lot's wife looked back. With regret and bitterness in her heart she turned towards the burning city where she had left all her possessions, and her affections, too, unfortunately. Maybe some think that was not so bad; but she acted in sheer disobedience to God's express command: "Look not behind thee." She could not abandon the life in Sodom that had now come under God's judgment. Physically she had left, but her heart had remained there. God does not want a divided heart.
Dear young man, dear young lady, if you wish to follow Jesus, you must make a clear decision: the world, or Jesus, but not the two together. The way of the world is the pathway to ruin. The pathway of faith is the way of salvation, but it demands renunciation. The effort is well worth while: its end is eternal life.


Statement of faith
The Evangelical Baptist Church accepts the Niceno-Constantinopolitan Creed, without the Filioque clause of the Western Church, as a concise, but complete, statement of the main tenets of Christianity, and as derived from the Holy Scriptures. Every other Statement of Faith and Practice is only a further development and interpretation of these tenets, or a reference to particular subjects, which could not be included in a Creed as synoptic as this.
What we believe :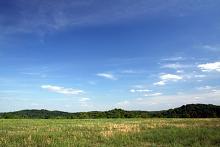 "The heavens declare the glory of God; and the firmament sheweth his handywork."
Psalms 19:1