"God is a spirit; and they who worship him must worship him in spirit and truth."
John 4:24
A Message for today
Ιf my people, which are called by my name, shall humble themselves, and pray, and seek my face, and turn from their wicked ways; then will I hear from heaven, and will forgive their sin, and will heal their land. 2 Chronicles 7: 14.



"Prayer and trust in God – the best aids in cases of illness". This was the title of an article that reported on an opinion poll conducted by an American university among family doctors. What a surprising result! Almost all the 300 doctors consulted were of the opinion that faith in God aided the process of healing.

Now this naturally does not mean that all our contemporaries who are gravely ill, a large number of whom populate the hospitals of our land, should simply stop taking their medicine. Even if we are convinced that Jesus Christ, God's Son, still has power over every disease and can act and command accordingly, the question is whether it is His will to do so. If trust in God were merely for the sick, then the healthy might happily do without Him.

Even the healthy are dependent on God's grace! Jesus Christ once said, "They that are whole need not a physician; but they that are sick. I came not to call the righteous, but sinners to repentance" (Luke 5: 31,32). Seen from God's point of view all are sick, for all are sinners.

Should you be suffering from an illness, then remember that God often uses this as a means of reminding you that you need to put things in order with Him. What a blessing it would be for you, if your sickness proved to be the cause of your soul becoming healthy in the sense that God understands!


Statement of faith
The Evangelical Baptist Church accepts the Niceno-Constantinopolitan Creed, without the Filioque clause of the Western Church, as a concise, but complete, statement of the main tenets of Christianity, and as derived from the Holy Scriptures. Every other Statement of Faith and Practice is only a further development and interpretation of these tenets, or a reference to particular subjects, which could not be included in a Creed as synoptic as this.
What we believe :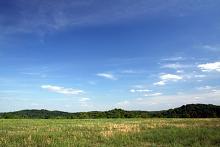 "The heavens declare the glory of God; and the firmament sheweth his handywork."
Psalms 19:1