"God is a spirit; and they who worship him must worship him in spirit and truth."
John 4:24
A Message for today
Man doth not live by bread only, but by every word that proceedeth out of the mouth of the LORD. Deuteronomy 8: 3.

A well-known interviewer, famous for the way he dealt with prominent persons, once asked a minister of state whether she knew the source of the saying: "Man shall not live by bread alone". She suggested a few famous writers from the literature of past centuries and added an expression of surprise that the quotation was so old.
So much for that interview! In fact the quotation comes from the Bible and goes back some 3,500 years. All will agree that human beings cannot live on bread alone. Then what else do they need? That our minds and our souls, alongside our bodies, also need nourishing hardly bears mentioning. Literature and the arts may motivate our spirit, but they will not satisfy it completely.
The writer of the scripture quoted today tells us clearly what our spirits and souls need. It is not the produce of the human mind that will give us ultimate satisfaction, but the Word of God. When man was created, he had a vital relationship to God. That relationship was interrupted by the fall of man. Since then we humans have not really led what can be called life. God designates our state rather as "death" (cf. Genesis 2:17; Ephesians 2: 1). Life, in the true sense of the word, involves a new relationship to God, and the only way to receive it is by the Lord Jesus Christ, who is the "Word of God" (cf. John 1: 1; Revelation 19: 13). In John 6: 35 the Lord Jesus invites all to come to Him in order to receive true life: "I am the bread of life; he that cometh to me shall never hunger; and he that believeth on me shall never thirst".


Statement of faith
The Evangelical Baptist Church accepts the Niceno-Constantinopolitan Creed, without the Filioque clause of the Western Church, as a concise, but complete, statement of the main tenets of Christianity, and as derived from the Holy Scriptures. Every other Statement of Faith and Practice is only a further development and interpretation of these tenets, or a reference to particular subjects, which could not be included in a Creed as synoptic as this.
What we believe :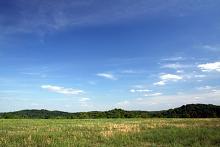 "The heavens declare the glory of God; and the firmament sheweth his handywork."
Psalms 19:1