"God is a spirit; and they who worship him must worship him in spirit and truth."
John 4:24
A Message for today
«And the Lord shall deliver me from every evil work, and will preserve me unto his heavenly kingdom" 2 Tim. 4:18.
THE LIONS

A mother was telling her little daughter the story of Daniel in the lions' den. The child was listening eagerly, when the mother stopped all of a sudden. "Go on, mom, go on, why did you stop?" Asked the little girl. "Because, my dear", said the mother, "It occurred to me that you might see lions in your sleep and be scared." "No, mom, please go on with the story, if I see Daniel and the lions in my dream, I'll keep the lions out!" What an answer! That's exactly what every child of God should do: Keep all anxiety, cares and negative thoughts out, and commit all to the Lord. Reader, if you haven't trusted Jesus as your Savior, do it now, and cast "all your care upon him; for he careth for you" (1 Peter 5:7).


Statement of faith
The Evangelical Baptist Church accepts the Niceno-Constantinopolitan Creed, without the Filioque clause of the Western Church, as a concise, but complete, statement of the main tenets of Christianity, and as derived from the Holy Scriptures. Every other Statement of Faith and Practice is only a further development and interpretation of these tenets, or a reference to particular subjects, which could not be included in a Creed as synoptic as this.
What we believe :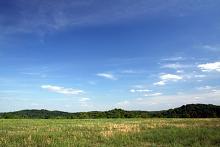 "The heavens declare the glory of God; and the firmament sheweth his handywork."
Psalms 19:1