"God is a spirit; and they who worship him must worship him in spirit and truth."
John 4:24
A Message for today
"…Fear not for I am with thee…" Is. 43:1-5

HELP IN THE STORM

During the French-Spanish war in the 16th century, a French camp was besieged by the Spanish who sent to them a message like this: "Surrender! We outnumber you by far". The French wrote on a piece of paper: "To surrender? Never, the king is with us". They fixed the paper on an arrow and sent it over to the Spanish camp. Elisha's servant was terrified when he rose up early in the morning and saw the host of the enemy that had compassed the city both with horses and chariots, and said to the man of God: "Alas, my master! How shall we do?" And Elisha said to him "Fear not: for they that be with us are more than they that be with them. And Elisha prayed, and said, LORD, I pray thee, open his eyes, that he may see. And the LORD opened the eyes of the young man; and he saw: and, behold, the mountain was full of horses and chariots of fire round about Elisha." (2 Kings 6:16,17). The apostle Paul wrote: "If God be for us, who can be against us?" (Rom. 8:31). Believers in Christ, we stand on solid and steady ground. We are on the winning side. It could be that our ship is tossed with the waves, the sea may rage and threaten to engulf it and us, but He is with us. He Who with only one word, at the moment He chooses, will cause the wind and the waves to be still.


Statement of faith
The Evangelical Baptist Church accepts the Niceno-Constantinopolitan Creed, without the Filioque clause of the Western Church, as a concise, but complete, statement of the main tenets of Christianity, and as derived from the Holy Scriptures. Every other Statement of Faith and Practice is only a further development and interpretation of these tenets, or a reference to particular subjects, which could not be included in a Creed as synoptic as this.
What we believe :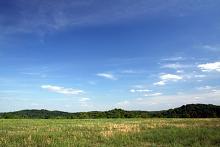 "The heavens declare the glory of God; and the firmament sheweth his handywork."
Psalms 19:1